The ECO card, a more environmentally friendly alternative to PVC cards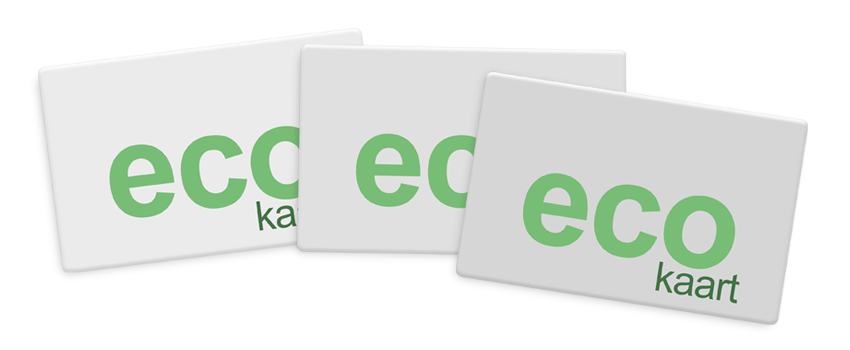 The ECO card, a more environmentally friendly alternative to PVC cards
We often use plastic PVC cards as the basic material for ID cards, access cards, employee cards, student cards.
PVC is a plastic polymer that has wide applications in addition to PVC cards, such as window frames, floor coverings, packaging, cables and medical applications. PVC is durable, has special technical properties and a low price. There has been growing pressure from the government and large companies for a decade to reduce PVC for health risks and environmental impact.
There are different ways in which PVC is processed. Processing by landfilling is the least favorable option, PVC can only be burned in an adapted incinerator (if not forming dioxins), and finally PVC recycling is certainly the best and most applied solution. However, recycling of the cards is difficult to organize because the products are distributed to the end user. That is why there are also PVC-free alternatives on the market.
What alternatives are there for PVC cards?
An obvious alternative is paper or cardboard, but they do not have the same resistance as plastic to water, creases or folds. The rewritable card is also an option, the card is cost effective, flexible and more environmentally friendly. Rewritable PVC cards can be reprinted multiple times, up to 500 times, without using the printer ribbon.
A new economically viable and sustainable alternative are the enviCARDS, produced on the basis of a mix of chalk (natural product) and PE (polyethylene, pure and easily recyclable plastic). The enviCARD is available in 2 versions:
85% PVC free ECO card and the 100% PVC free ECO card. The PVC content in both types is therefore greatly reduced and we maintain the durability of a plastic card. The flexibility is slightly higher, the whiteness is slightly lower, but a better printability gives you deeper color tones.
In addition to the ECO card and the rewritable card, Card Supply Netherlands also offers card printers and BadgeMaker software to design and produce ID cards.
Jul

15

2019

Comments Off

on The ECO card, a more environmentally friendly alternative to PVC cards