SC4500 Enkelzijdig met Magneetstrip Contactloze en Chipcodering

SC4500 Enkelzijdig met Magneetstrip Contactloze en Chipcodering
SKU: W-SC4500-3633-3006
Veilig
Om uw organisatie te beveiligen heeft u ID-kaarten nodig waar men op kan vertrouwen. Elke kaart die wordt geprint met de SC4500, kan worden beveiligd met het HoloKote® anti-fraude watermerk.
Slim
De USB Interface, Ethernet en Microsoft gecertificeerd, Mac OS X compatibel en de plug en play driver zorgen ervoor dat de ScreenCheck SC4500 gemakkelijk te installeren en te gebruiken is. Voor extra elektronische beveiliging zijn magneetstrip- en smartcard inline codeeropties beschikbaar.
Flexibel
Bulkprinten met de verwisselbare 100-kaartvoeder of print enkele kaarten of herschrijfbare kaarten met de handmatige invoersleuf aan de voorkant.
Aanpasbaar
Direct beschikbaar als enkel- of dubbelzijdig. U kunt ook van een SC4500 enkelzijdig upgraden naar dubbelzijdig afdrukken, door deze in te schakelen met een uniek drop-in veld.
Wanneer het aankomt op veilig en betrouwbaar ID-kaartprinten, kunt u erop vertrouwen dat de ScreenCheck SC4500 levert.
Standaardfunctionaliteiten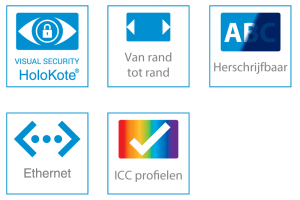 Optionele funtionaliteiten