SC4500 ID Kaartprinter Introductie Bundel
SC4500 ID Kaartprinter Introductie Bundel
SKU: SC4500-START-BUNDLE
SC4500 ID Kaartprinter Introductie Bundel is het complete startpakket. Veilig en betrouwbaar ID-kaarten printen met de SC4500 Start Bundel. Een volledig startpakket met een kaartprinter, ID software, PVC kaarten en printerlint:
De SC4500 ID Kaartprinter Introductie Bundel bevat:
 

SC4500 Enkelzijdige ID Kaartprinter

 

BadgeMaker PLAY Software

 

100 Blanco PVC Kaarten

 

Printerlint (100 afbeeldingen)
Over de SC4500 Enkelzijdige Pasjes Printer
Veilig
Om uw organisatie te beveiligen heeft u ID-kaarten nodig waar men op kan vertrouwen. Elke kaart die wordt geprint met de SC4500, kan worden beveiligd met het HoloKote® anti-fraude watermerk.
Slim
De USB Interface, Ethernet en Microsoft gecertificeerd, Mac OS X compatibel en de plug en play driver zorgen ervoor dat de ScreenCheck SC4500 gemakkelijk te installeren en te gebruiken is. Voor extra elektronische beveiliging zijn magneetstrip- en smartcard inline codeeropties beschikbaar.
Flexibel
Bulkprinten met de verwisselbare 100-kaartvoeder of print enkele kaarten of herschrijfbare kaarten met de handmatige invoersleuf aan de voorkant.
Aanpasbaar
Direct beschikbaar als enkel- of dubbelzijdig. U kunt ook van SC4500 enkelzijdig upgraden naar dubbelzijdig afdrukken, door deze in te schakelen met een uniek drop-in veld.
Wanneer het aankomt op veilig en betrouwbaar ID-kaartprinten, kunt u erop vertrouwen dat de ScreenCheck SC4500 levert.
Over de BadgeMaker PLAY ID Software
BadgeMaker PLAY is het ideale startpakket voor de productie van een beperkt aantal ID kaarten.
BadgeMaker biedt bedrijven een complete en efficiënte applicatie voor kaartontwerp, gegevensbeheer en productie van PVC kaarten.
Specificaties BadgeMaker PLAY
 3 

Kaartontwerpen

 1 Project
 100 Data Records
 

Snel handmatig toevoegen van kaarthoudersgegevens

 

Max. 20 kaarten per dag printen

 

Print barcodes en codeer magneetstripkaarten

 

Makkelijk in gebruik
Klik hier voor meer informatie over BadgeMaker en om de software te downloaden.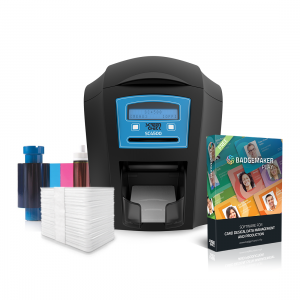 Standaardfunctionaliteiten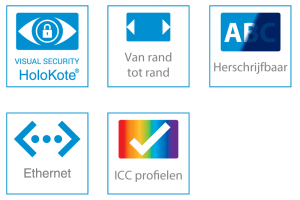 Optionele funtionaliteiten