SC2500 ID Kaartprinter Introductie Bundel Sale

SC2500 ID Kaartprinter introductie Bundel
SKU: W-SC2500-START-BUNDLE
SC2500 ID Kaartprinter Introductie Bundel is een startpakket. Een compacte en betrouwbare verpakking met de SC2500 Start Bundel. Een mooi startpakket met een kaartprinter, ID software, PVC kaarten, printerlint en badgehouders:
De SC2500 ID Kaartprinter introductie Bundel bevat:
 

SC2500 Enkelzijdige ID Kaartprinter

 

BadgeMaker PLAY Software

 

100 Blanco PVC Pasjes

 

Printerlint (100 afdrukken)
Over de SC2500 ID Kaartprinter
Handmatige invoer voor direct-to-card printen
De ScreenCheck SC2500 Enkelzijdige ID Kaartprinter bestaat uit een handmatige invoer aan de voorkant, die het mogelijk maakt direct en binnen enkele momenten een gepersonaliseerde kaart te produceren. Van rand tot rand en scherpe afbeeldingskwaliteit printen in een compacte en betrouwbare verpakking.
Herschrijf technologie
Gebruikmakend van speciale herschrijfbare kaarten kan de SC2500 ID Kaartprinter dezelde kaart meerdere keren printen en wissen in monochrome blauw of zwart, ideaal voor bezoekerspassen of tijdelijke kaarten.
Budget vriendelijk en veilig
De ScreenCheck SC2500 Enkelzijdge ID Kaartprinter zorgt voor geprinte passen voor een lage prijs. Ook biedt de SC2500 pasjes printer standaard gratis visuele kaartbeveiliging met vier HoloKote® watermerkontwerpen. Magneetstrip en Smartcard codeeropties zijn beschikbaar voor de SC2500 als extra elektronische beveiliging op een multifuntionele kaart.
Duurzaam, compact en verplaatsbaar
De esthetische lijnen van de ScreenCheck SC2500 printer maken het een ultra-robuust product. Het lichte en compacte ontwerp is verplaatsbaar naar elke locatie en past gemakkelijk op een tafel of bureau.
Wanneer het aankomt op veilig en betrouwbaar ID-kaartprinten, kunt u erop vertrouwen dat de ScreenCheck SC2500 levert.
Over de BadgeMaker PLAY ID Software
BadgeMaker PLAY is het ideale startpakket voor de productie van een beperkt aantal ID kaarten.
BadgeMaker biedt bedrijven een complete en efficiënte applicatie voor kaartontwerp, gegevensbeheer en productie van PVC kaarten.
Specificaties BadgeMaker PLAY
3 Kaartontwerpen
 1 Project
 25 Data Records

Snel handmatig toevoegen van kaarthoudersgegevens

Max. 5 kaarten per dag printen

Print barcodes en codeer magneetstripkaarten

Makkelijk in gebruik
Klik hier voor meer informatie over BadgeMaker en om de software te downloaden.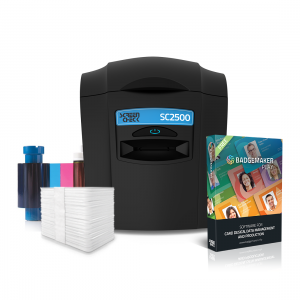 Standaardfunctionaliteiten

Optionele funtionaliteiten