SC2500 ID Card Printer Introduction Bundle
SC2500 ID Card Printer Introduction Bundle
SC2500 ID Card Printer Introduction Bundle
SKU: W-SC2500-START-BUNDLE
SC2500 ID Kaartprinter Introductie Bundle is the compact starters package. A fast efficient choice for direct printing of a couple of badges. A starters package with a card printer, ID software, PVC cards and ribbon:
 

SC2500 Single-sided ID Card Printer

 

BadgeMaker PLAY Software

 

100 Blank PVC Cards

 

Ribbon (100 images)
€

1.395,00
€

1.687,95
VAT incl.
Product Description
SC2500 ID Kaartprinter Introductie Bundel Sale

SC2500 ID Card Printer Introduction Bundle
SKU: W-SC2500-START-BUNDLE
The SC2500 ID Card Printer Introduction Bundle includes:
 

SC2500 Single-sided ID Card Printer

 

BadgeMaker PLAY Software

 

100 Blanco PVC Cards

 

Ribbon (100 images)
About the SC2500 ID Card Printer
Single feed for on-demand printing
The ScreenCheck SC2500 printer features a single card feed that enables you to produce a personalised card on demand in moments. Edge-to-edge and sharp image quality for simple and easy card printing in a compact and highly reliable package.
Rewrite technology
Using special rewrite cards, the SC2500 color ID card printer can print and erase the same card over and over in monochrome blue or black, ideal for visitors passes and temporary badges.
Budget friendly and secure
The ScreenCheck SC2500 printer delivers low cost printing and free card visual security as standard with four HoloKote® watermark designs. Security can be further enhanced with magnetic stripe and smart card encoding options.
Robust, compact and portable
The ScreenCheck SC2500 printer's aesthetic curves showcase an ultra-robust product. Its light and compact design makes it easy to transport to any location and reside on any counter or desktop.
When it comes to a budget friendly and secure ID card printing, the ScreenCheck SC2500 is ready to deliver.
About the BadgeMaker PLAY ID Software
BadgeMaker PLAY is a complete software package, creating a base with everything you need for ID card production.
BadgeMaker offers companies a complete and efficient application for card design, data management and production of professional ID cards for employees.
Specifications BadgeMaker PLAY
 3 

Card Designs

 1 Project
 100 Data Records
 

Quick enrolment adding a card for PLAY

Print a maximum of 20 cards per day

 

Print barcodes and encode magnetic stripe cards

 

Easy to use
Click here for more information about BadgeMaker and to download the software.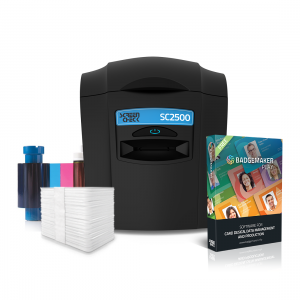 Standard features

Optional features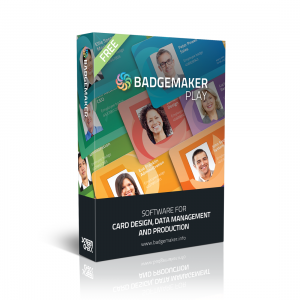 Additional information
| | |
| --- | --- |
| Weight | 7.5 kg |
| Dimensions | 42 × 26 × 34 cm |
| Print mode | |
| Visual security | |
| Card encoding options | |
| Warranty** | |
| Printer interfaces | |
| Driver compatibility | |
| Weight | |
| Power source | |
| Dimensions | |
| Environment | |
| Print speed | |
| EAN | 0758763897138 |
| UPC | 758763897138 |
| Brand | ScreenCheck |
| Manufacturer | Magicard |
Reviews
There are no reviews yet.
Only logged in customers who have purchased this product may leave a review.